Cattleya dowiana –aurea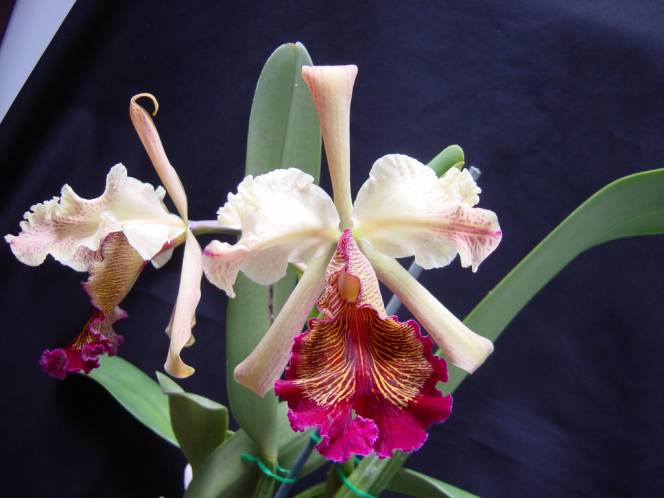 Considered by some as a var. of
C. labiata
and by others as a species in its own right.
Very similar
vegetatively, but with a very different and distinctive labellum on account of the golden veining shape and form.
Inflorescence bear 5-6 flowers which are not as long lasting as others of this genus but nevertheless very worthy of cultivation and preservation. First discovered by Warscewicz in Costa Rica – 1850 - plants he sent to Low & Co. died.
Dried specimens he sent to Reichenbach did not arrive in Germany. The discoverer had requested that this should be named after a Mrs. Lawrence of Ealing, (not Lady Lawrence).
A second discovery was made on the western slopes of the central mountain range – Costa Rica – by a native naturalist, Arce Collecting for G.U. Skinner who despatched plants to J. Bateman in 1865.
Skinner requested it to be named after Capt. J.M. Dow of the American Package Company who often
conveyed plants Skinner sent to Bateman.
It was established, described and named by Bateman and Reichenberg. f. Very fragrant flowers are 15cm.-(6") across, ss. and the large frilled ps. Are nankeen yellow ( the ps. Are occasionally veined and/or flushed with magenta/red-majenta.
The large labellum is velvety, very rich crimson-purple, with golden yellow veins radiating from the centre, with three prominent golden yellow streaks down the centre.
Warmth; humidity; high light level and air movement are necessary, as for other species of this genus.